Water Bill Payments
Water bill payments are due monthly, on the 27th of each month.
A late fee of $5.00 will be added to your bill automatically the morning of the 28th.
If you are having trouble paying your bill, call our office today at 724-628-2930.
Ways to Pay
We encourage our customers to stop by and make their payments at our office. We are located right off Route 119 on Moyer Road in Connellsville, Pennsylvania.
Pleasant Valley Water Authority
2320 Moyer Road
Connellsville, PA 15425
Office Hours are Monday through Friday, 9:00 a.m. to 4:30 p.m.
Drop Box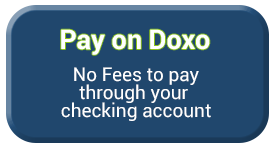 Location: Next to the front entrance of our office
Items needed to make a drop box payment include: your payment (either check or money order) and the payment stub from your current bill.
Please make checks payable to: Pleasant Valley Water Authority or to PVWA.
ACH Automatic Payment Withdrawal
Automatic payment is a service offered to Pleasant Valley Water Authority customers free of charge.  Fees, however, will apply if sufficient funds are not available to cover your request.
Please click the link for our
Automatic Withdrawal Authorization Agreement,
then print the application, complete it, sign it, and return it to:
PVWA
ACH Payment
2230 Moyer Road
Connellsville, PA 15425
Online Payment
Follow this link to pay your bill online: https://pvwa.authoritypay.com/
Additional payment methods include
Automatic Bill Pay on-line
Credit/Debit Payments
Doxo is free to use to make payments via your checking account. Create a Doxo account, enter your banking info, and you make your payments each month. (Fees apply if you use credit or debit card instead of your bank account.)
Though we enjoy having personal contact with the people we serve, we also know the convenience of paying on-line without leaving your home is gaining in popularity. Looking to the future, we are taking steps to create a bill and payment system option on our website.
Service Fees
Service fees (i.e. turning water on or off, maintenance, etc.) are variable depending on the situation. Call our office at 724-628-2930 for more information on service fees.